Thanks for a great summer of training courses!  Future courses will be posted in November 2018.  See below what we offered summer 2018.
Note: Participants must be 18 years old or older to register and attend any course.
Pathology Course: May 21-23, 2018
This hands-on course is designed to provide a deeper understanding of the biomechanics and biology of the skeletal response to external and biological stress.  Participants learn about the categories of skeletal pathology and examples of each, including infectious diseases, cancers, metabolic diseases and arthritic conditions.  Basic biomechanical principles of skeletal response to pathology are demonstrated using case studies and research reviews.  Special attention is given to the fracture repair process.   Osteology knowledge required.  Instructors include: Dr. Dawnie Steadman
Cost: $500
Forensic Anthropology Field Methods: May 29-June 1, 2018
This is an intensive course designed to enhance one's knowledge in forensic recovery techniques. Various mapping techniques and equipment will be discussed and applied to an outdoor context. Participants will be responsible for the recovery of scattered and buried human remains at the Anthropology Research Facility.
This course is best suited for advanced undergraduate and graduate students in physical and forensic anthropology that have experience with osteology.

Cost: $600
Methods in Ancestry Estimation: June 4th-6th, 2018
During this three-day intensive and hands-on course, participants will learn the theoretical background of ancestry estimation in forensic anthropology, tackle the most difficult cranial and postcranial measurements necessary for ancestry estimation, receive training in Fordisc, and learn how to apply macromorphoscopic traits for ancestry estimation.  Participants will work on their own cases and have access to all necessary databases and tools.  Prior experience with osteology is required.  Instructors include: Dr. Joseph Hefner,  Dr. Lee Meadows Jantz, Dr. Richard Jantz, and Dr. Stephen Ousley.
Cost: $500
Comparative Osteology: June 13-15, 2018
This is a hands-on laboratory course introduces participants to basic human osteology and differences with non-human skeletal elements.  The course will be mostly hands-on with daily quizzes and methods on how to distinguish human from non-human skeletal remains. The course is designed for students and law enforcement and focuses on how to distinguish human from non-human skeletal remains.  No previous knowledge required.
Cost: $375
Outdoor Recovery Course: WILL BE OFFERED AGAIN SUMMER 2019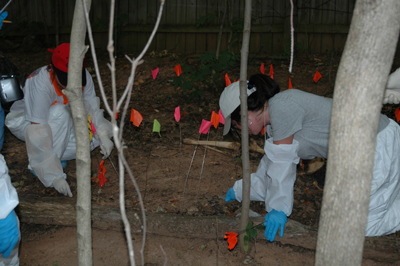 This course is designed for medico-legal personnel that are actively involved in the recovery of human remains. Participants will be introduced to the role of the forensic anthropologist in a forensic investigation and how they can assist in the recovery of remains in an outdoor context. Topics covered include the basics of time since death determination and an introduction to new techniques available to law enforcement, the basics of insect collection and the use of entomological data, and forensic odontology. The archaeological approach to surface and burial recovery and the use of current technology available to aid in the recovery of human remains at the Anthropology Research Facility will be emphasized. (Note: The Outdoor Recovery course is POST certified)
Pre-requisites: Participants must be gainfully employed in the medico-legal community. Medical Examiners, death investigators, law enforcement or other related fields will be considered.

Cost: $1000
back to top of page
If course is full, please contact Dr. Giovanna Vidoli at gvidoli@utk.edu for more information on short courses.