Registration now open for our Comparative and Human Osteology courses!
Note: Participants must be 18 years old or older to register and attend any course.  Information on nearby hotels can be found here
Comparative Osteology Course: January 4-6, 2023
This is a hands-on laboratory course introduces participants to basic human osteology and differences with non-human skeletal elements.  The course is designed for students and law enforcement and focuses on how to distinguish human from non-human skeletal remains.  No previous knowledge required.
Cost: $550
You can register here
Human Osteology Course: January 9-13, 2023
This hands-on course introduces participants to human osteology and bone biology.  The course offers an in-depth study of human skeletal remains, including fragmentary remains and dentition.  Participants will also be exposed to non-human osseous materials.  Daily quizzes will help participants track their progress and apply their knowledge.  The course is designed for students and educators who are interested in learning how to identify complete and fragmentary human bones.  No previous knowledge required.
Cost:  $625
Human Osteology: A Laboratory and Field Manual (2005) by W.M. Bass will be available to all participants as a course reference.
You can register here
Registration for SUMMER 2023 Training courses will open in November. See below for dates.
Outdoor Recovery Course: May 22-26, 2023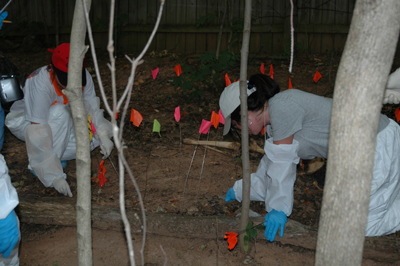 This course is designed for medico-legal personnel that are actively involved in the recovery of human remains. Participants will be introduced to the role of the forensic anthropologist in a forensic investigation and how they can assist in the recovery of remains in an outdoor context. Topics covered include the basics of time since death determination and an introduction to new techniques available to law enforcement, the basics of insect collection and the use of entomological data, and forensic odontology. The archaeological approach to surface and burial recovery and the use of current technology available to aid in the recovery of human remains at the Anthropology Research Facility will be emphasized.
Pre-requisites: Participants must be gainfully employed in the medico-legal community. Medical Examiners, death investigators, law enforcement or other related fields will be considered.

Cost: $1000   
You can either pay with credit card or request an invoice.
Forensic Anthropology Field Methods: May 30-June 2, 2023
This is an intensive course designed to enhance one's knowledge in forensic recovery techniques. Various mapping techniques and equipment will be discussed and applied to an outdoor context. Participants will be responsible for the recovery of scattered and buried human remains at the Anthropology Research Facility.
This course is best suited for advanced undergraduate and graduate students in physical and forensic anthropology that have experience with osteology.

Cost: $600
For an inside look in our training courses, see this video with the FBI Evidence Recovery Team!
If course is full, please contact Dr. Giovanna Vidoli at gvidoli@utk.edu for more information on short courses.