Holiday orders must be placed and paid for by DECEMBER 5 in order to receive the merchandise on time.
The Forensic Anthropology Center is pleased to offer merchandise to purchase for your family, friends, teachers, employers, or yourselves!  The items range from small (a patch) to soft (a hooded sweatshirt) to practical (pint glass!).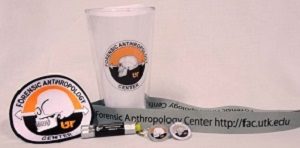 Our most popular items are our t-shirts that are pre-shrunk, uni-sex, 100% cotton.  If you want something to keep you warmer, we also have long sleeve shirt and cozy sweatshirts!  Our shirts have the FAC logo on the front left side and back.

Other items include coffee mugs, patches, and orange or black baseball hats! **Please note- do not put pint glasses in dishwasher**
All our merchandise has the FAC logo and is available for shipping.  Shipping in the continental US is $10 plus $1.50 per item and will be added to your invoice total.  Items will be shipped within 5 business days of receiving your payment.  Unfortunately, we cannot ship internationally.  Items can be exchanged within 15 days.  Below are our items with prices.
PLEASE NOTE, YOU CAN PURCHASE MERCHANDISE BY INVOICE ONLY!!  We cannot accept credit card orders at this time. 
1. Please complete and submit the order form by CLICKING HERE 
2. Once we receive your order form, we will email you an invoice
3. Return your invoice with your check or money order made out to the University of Tennessee
4. AFTER  we receive your payment, we will ship your order within 5 business days.
If you have any questions, please contact Dr. Lee Meadows Jantz at ljantz@utk.edu
* If ordering in Tennessee, 9.25% tax will be added to your order.